Love CAME (past tense) in form: Creator God lowered Himself to come in the form of man, Jesus.
Most leaders who identify as leadership in His Church agree that God came in the form of man to take away the Sin of the world (His coming is in the third person), but fail to understand His appearing is now THROUGH us (in the first person). As His bride, we are His body.
Love CAME (past tense) in form (Jesus) but

Love also COMES (present and future tense) in form (through His Church). As His Bride He comes THROUGH us, not just TO us. 
It's not difficult to accept Jesus as being one with God. We accept and preach with great vigor that He could say, "The Spirit of the Lord is upon me, because He hath anointed me to preach the gospel to the poor; He hath sent me to heal the brokenhearted, to preach deliverance to the captives, and recovering of sight to the blind, to set at liberty them that are bruised, to preach the acceptable year of the Lord".
All true; we know His purpose but why aren't we able to discover and embrace OUR purpose as His Body? What if I told you we have the same purpose as Jesus? Of course, it's not our blood shed for the remission of sin, but as kings to God, we are priests to others. As such, we offer sacrifices and we preach the gospel to the poor. If we're in relationship with proper authority, we're sent to heal and deliver captives, as well as opening blind eyes and opening the gates of heaven for those who are hurting, as we preach they are acceptable to God in this age.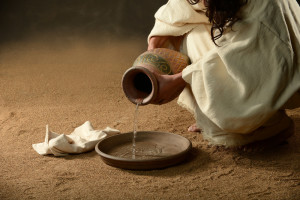 You've probably heard your mind should be transformed into His mind, and you've probably heard you and I are His Body but do you know how necessary these are to the realization of His Dream? We are His Body but He loves the whole world. What a dilemma. Let's see now, who should God send to tell the world of His great Love for the world? When He (Jesus) went away, He sent The Comforter; it was to empower us to do even greater works than Him but it was also to operate AS HIM as a legally binding contract to operate IN HIS NAME. If there are two of us operating IN HIS NAME (counting you and me), that's not nothing!
Spiritual leaders should teach a message that operates in the same Grace God has offered. In other words, teach and preach a message where you're people have the same mind as Christ Jesus- "Who, being in the form of God, thought it not robbery to be equal with God: 

But made himself of no reputation, and took upon him the form of a servant, and was made in the likeness of men:

And being found in fashion as a man, he humbled himself, and became obedient unto death, even the death of the cross." (II Philippians 2:5-8) 
The reason you probably haven't heard this is most leaders are more comfortable with setting things up where the leader is on top rather than underneath. The government of love seeks out that which is lost so that it can restore and open blind eyes.

Boy-leaders prematurely operate as set ministers and hold others in bondage rather than setting them free. They've searched the scriptures and thought they'd found life but did they? Paul described them as denying the power, even though they seem to be crossing every 't' and dotting every 'i'. Your life will tell the answer. What captives are you setting free? Don't experience condemnation if this is you. Simply own it. Confess it and start again; connect with someone in Biblical authority and be transparent. 
You are loved as you are. When that lands, you'll be changed; aware of the fear based human hierarchy we humans are built with. There is nothing God is holding against you except His Love. Humans are His crowning achievement in all His creation. He is not mad at you.

Mature leaders have grown up into Christ as our head, and operate fully in the government of love. They allow the coming of Christ to happen in the present tense, not just the past and/or future. The way they do this is they understand they are part of the God-head and not separated from Him. They never try to steal the honor but they also understand who they are and why.
Please
contact us
if you need help in these areas.