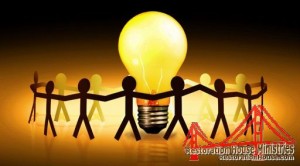 PRE-CONCEIVED ideas are the cause of many of life's storms.  When the purity of approaching 'what's next' as a child, meets the fear of the future (past or present), the two opposing fronts meet.  You might say, it's a double-minded reality and is the cause of much of my (and your) anguish.
This 'plays out' in several different ways (here are a few):
To some, they become addicted to the constant storms; they love the dysfunction of being in what they perceive the front lines.
To some, fear causes them to go around all trouble, which does nothing more than cause them to live life circling the same issues over and over.  The mountains then become their gods and their compass.
For others, they see the storm for what it is; they hear God's small, still voice, encouraging them to let go of whatever is covering their eyes.  To these sons of God, they manifest His purpose in the Earth.
It's never too late to offer your pre-conceived ideas up to the fire so you too can be free.