There all sorts of topics being talked about in the world.  The 'juicy' ones are the ones that are 'shocking'.  They are the ones where the movie star has some sort of love affair or secretly has an eating disorder.  If you don't believe me, when's the last time you were in a check out line at your local grocery store?  While checking out, you have your choice of a bounty of 'fresh kill' ready to meet the craving within our natural value system.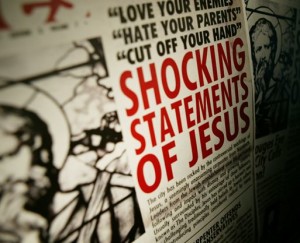 Most anyone exposed to Biblical teaching, preaching or personal study has heard the word 'Agape' being used.  No one would disagree that 'Agape' is the Greek word for 'Love' when used as a noun.  The study is extensive so I'm not attempting to 'can' what it means.  Often, we also use the word 'Love' (Agape), when we attempt to 'describe'.  In those cases, the word 'agape' is being used as an adjective or adverb.  The descriptive word (adjective or adverb), as defined by Merriam-Webster means, "having the mouth open because of wonder, surprise, or shock".
Not very interesting so far, but this is why distinguishing the difference between noun and descriptive words are important.  If our definition of 'Agape Love'  does not leave us with our mouths open, in shock; it is not Agape Love.  God's Love is so radical and so complete that it offends our flesh.  To the flesh, it's the end of it's own value system; it's death.  An example of this is that I was not saved 35 years ago; I was saved 2000 years ago when He finished the 'work'.  Actually, it all happened from the foundations of the world.  Our lack of presenting Truth as it is, waters down Grace.  When presented in-correctly, it leaves people with a choice on whether to 'get saved' or not.   There is a decision to make but it isn't whether to 'get saved' or not.  The decision is to taste and see what He already did.  I guess right now I just wanna say, "Preach the Truth Church!  If your presentation of Truth doesn't leave people with their mouth open, in shock, it isn't Truth.  God loves radically and the things we think separate us, may be the things that draw Him nearer."
Okay, so everything that leaves our mouths open and in shock is not Truth either.  Of course.  My point is that we should be slow to speak from a position of instruction.  When we do speak, it should be of our real experience with God and of the Grace He has given.  We find it so uncomfortable talking about our own frailty and issues that it leaves me wondering if most of what we know as leadership in 'The Church' has even made the choice to taste themselves.  How would we know if someone is tasting of God's goodness?  I can't say for sure, but I can tell you what it looks like in Paul, and sometimes myself.  In Paul, he boasted in his weakness, so that Christ's power might rest in Him.
Okay, one final rant, "Don't worship the placenta!"  Look for the Baby coming through our natural organizations and our natural lives.  He comes to get us where we are, but it would be dysfunctional if we were to attempt to keep the placenta along with the baby.  Discard the placenta as unimportant and fulfilling it's function! Prophecies and speaking in tongues are the same way.  Our quest for knowledge will no longer be important once we grasp our real connection with God.
I titled this little article as "It's Shocking and Will Leave You with Your Mouth Open".  Just remember this the next time you flinch when someone is sharing their experience with God.  Also, be aware if you don't have this experience when they claim they're telling you about God's Love, because it may not be.
Peace2U, David